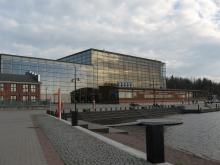 from 17th to 20th June 2019 in Lahti, Finland at Sibelius Hall
Discussing the future of the European Water Directive and Schowcasing ambition under midnight sun !
Finnish authorities invite Europe-INBO this year to hold the 17th "EUROPE-INBO" International Conference, co-organized with the "Group of European Basin Authorities for the Implementation of the European Water Directives", from Monday 17th of June to Thursday 20th of June 2019, at the Sibelius Hall, Lahti, FINLAND.
Organizations, administrations and other stakeholders interested in Basin Management are invited to participate in the event and share their experiences on basin management.